Brand Names
Isoxsuprine Flavored Powder
Isoxsuprine HCL Tablets USP
Description

Isoxsuprine is prescribed by some veterinarians as a vasodilator to improve circulation and blood flow in the horse's foot in cases of navicular disease and laminitis.
Usage
Prescribed by some veterinarians, isoxsuprine is believed to increase circulation and blood flow, the lack of which is thought to be a contributing cause of navicular disease and laminitis. Because the underlying causes of navicular disease and laminitis are not completely understood, some veterinarians question the usefulness of the drug for this purpose. Isoxsuprine causes direct vascular smooth muscle relaxation, primarily in skeletal muscle.
Some veterinarians have used isoxsuprine in the treatment and management of premature labor, but no scientific information is available that supports this use.
Dosage and Administration
Isoxsuprine
Method
Dosage
(click row for calculator)
Concentration
Period
Duration
Oral
0.6-1.8 mg/kg
20 mg/tablet
Twice daily
NA

Notes:

Federal law restricts this drug to use by or on the order of a licensed veterinarian.
Extra-label use of drugs in treating animals is allowable only by licensed veterinarians within the context of a valid veterinarian-client-patient relationship, and does not include drug use in treating animals by the layman (except under the supervision of a licensed veterinarian).
Calculator is for educational purposes only. Follow your veterinarian's instructions regarding use of this, or any medication.
Side Effects
Side effects are rare in horses, but can include changes in blood pressure, increased heart rate, and possible gastrointestinal irritation.
Precautions
Isoxsuprine is a vasodilator and should not be used in mares immediately after foaling or horses that have active bleeding.
Isoxsuprine is not FDA approved for use with horses. It is a prescription drug and U.S. federal law restricts this drug to use by or on the lawful written or oral order of a licensed veterinarian.
Isoxsuprine is prohibited in any drug-free competition. It is important to consult a knowledgeable veterinarian and the individual regulatory group regarding rules affecting its use.
Interactions
Isoxsuprine should not be used with other drugs that might affect blood pressure. It should be used with caution with most sedatives and drugs used for general anesthesia. Accurate records of its use should be kept in case an animal is referred to an equine hospital for intensive care or surgery.
Overdose
Drug overdose increases the risk and severity of side effects.
Images

Isoxsuprine Flavored Powder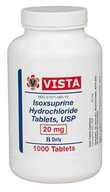 Isoxsuprine Tablets
Literature