Calling all horse owners: Here is your opportunity to win a FREE Horizon Structures run-in shedfor your horses in a sweepstakes contest beginning October 15th and running through November 30th, 2019.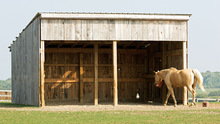 According to Dave Zook, owner of Horizon Structures, this FREE 10 x 20 run-in shed is the perfect gift for your horse as the holiday season approaches.
© 2018 by ChristinaHandley - Horse Canada
"We've put something special under the tree, for FREE. This 10' x 20' run-in shed is the perfect gift for your horse and as the holiday season approaches we figured what better way to give back to the equestrian community than by following up our last year's Sweepstakes with another one," said Dave Zook, owner of Horizon Structures.
Last year's winner Ashley Nelms, of Flare Oaks Rescue, N.C. agrees:
"I was thrilled to win the run-in shed last year. We have had a very good year since overall, and our farm has provided sanctuary to many. When Hurricane Florence hit in 2018 and took out our newly built run-in shed that turned out not to be well-built at all and blew down, our hearts sank.
And then we were so fortunate to be blessed with winning the Horizon Structures run-in shed, literally from a drawing out of Boyd Martin's hat. We love our Horizon run-in shed. It's so sturdy and I don't have to worry about my horses in poor weather. They are very happy and safe in it. If it were up to me I'd have a whole farm full of Horizon Structures buildings," said a happy Nelms.
Olympians Boyd Martin and Phil Dutton will again be on hand to make the final random drawing from the top 10 finalists. Check in with Boyd Martin and Dave Zook chatting about the new contest HERE: https://youtu.be/-UXkQ_amNzM
To enter the Horizon Structures Sweepstakes contest please visit: https://www.horizonstructures.com/10x20-run-shed-giveaway-contest-0
And don't forget Horizon Structures will again be exhibiting their fine horse barns at the Equine Affaire, Springfield, MA November 7th -10th, 2019, so be sure to stop in and say hello and 'kick the kickboards' to see firsthand the top quality sturdy build their line of horse barns provide.
To enter the Horizon Structures Sweepstakes contest please visit: https://www.horizonstructures.com/10x20-run-shed-giveaway-contest-0
About Horizon Structures: One horse or twenty, there's one thing all horse owners have in common...the need to provide safe and secure shelter for their equine partners. At Horizon Structures, we combine expert craftsmanship, top-of-the-line materials and smart "horse-friendly" design to create a full line of sheds and barns that any horse owner can feel confident is the right choice for their horses' stabling needs.
All wood. Amish Made. Most of our buildings are shipped 100% pre-built and ready for same-day use. Larger barns are a modular construction and can be ready for your horses in less than a week. All our barn packages include everything you need -
Horizon Structures also sells indoor riding arenas, chicken coops, dog kennels, 1 and 2 car garages, storage sheds and outdoor living structures.
Headquartered in South-Central Pennsylvania, Horizon Structures, LLC is owned by Dave Zook. Dave was raised in the Amish tradition and grew up working in the family-owned shed business. He started Horizon Structures in 2001 in response to an ever-increasing customer demand for high quality, affordable horse barns.
For additional information about the company or their product line, please visit their website at https://www.horizonstructures.com
PR provided by Nikki Alvin-Smith: International published freelance writer and creative content producer. Ghostwriting, blog services, PR/Marketing specialist. Nikki also produces catalog and website copy, white papers, e-books, corporate brochures and advertising copy for a wide range of businesses.
As a Brit who has called the America home for the past 34 years, Nikki brings a unique perspective to the equestrian world. Nikki is also an accomplished Grand Prix dressage trainer/competitor, competing at international Grand Prix level to scores over 72% and is a highly sought clinician offering clinics worldwide. She has been a horse breeder/importer of warmblood and Baroque breeds for more than 25 years. Together with her husband Paul who is also a Grand Prix trainer, they run Willowview Hill Farm, a private dressage breeding operation and training yard in the beautiful Catskill Mountains of New York. Please visit https://nikkialvinsmithstudio.com/ to learn more about her affordable service.
---
Press release written by Nikki Alvin-Smith - Minor pre-publication editing by EquiMed staff