Most folks think use of the General Services Administration (GSA) as being limited to the Federal government. In fact many State and local government agencies can benefit from using the GSA contract option.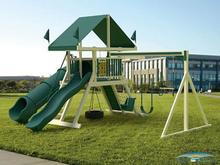 A purchasing process with vetted product pricing, makes the GSA contract a useful program for a myriad of equestrian and animal related government tasks.
© 2019 by Horizon Structures New window.
A streamlined purchasing process with vetted product pricing for competitive cost, makes the GSA contract a useful program for a myriad of equestrian and animal related government tasks.
To garner more insight into how the GSA program can be effectively utilized we spoke with Jill Siragusa, Chief Marketing Officer at leading manufacturer of modular and prefab structures, Horizon Structures LLC.
"We have been offering GSA since 2011. We decided to obtain a GSA contract to enable us to sell to the US Government as an additional source of revenue. While our GSA sales only make up a small percentage of our overall sales, we also feel that providing service to our military and government agencies is an important task to undertake.
When an order comes in for the U.S. Coastguard, the U.S. Army, or the National Guard for example, there is a happy buzz in the office and on the factory floor as our team gets busy fulfilling the contract. All of us at Horizon Structures are very proud to play a small part of helping take care of the service animals that help defend our country," said Siragusa.
With family that have served in the military, Siragusa is rightfully proud of the GSA program at Horizon Structures and the benefits it has added across an array of government needs.
Siragusa explains more about the program for purchasers at government agencies (however large or small), and for vendors interested in undertaking a GSA contract.
"The General Services Administration makes the process easier for buyers in that, in order to obtain a contract, suppliers must go through a vetting process which, among other things, ensures their pricing is competitive, their business is well-established and has well-defined operating procedures and terms and conditions. GSA has a website where GSA contract holders can list their (approved) items for (simplified) online purchase.
Additionally, government buyers get discounts not available to the general public. Meeting all the criteria for a GSA contract helps streamline the process for a government buyer. While government buyers are not required to buy from GSA contract holders, they are strongly encouraged to do so wherever possible. Buying from a GSA contract holder reduces risk and streamlines their purchasing process."
Horizon Structures regularly services GSA contracts with structures for various needs. Recent projects include:
A huge playground replete with playsets for the U.S. Air Force, numerous 6' x 16' run-in sheds that were not used for equines at all, but other purposes including on the baseball field as dug outs.
(8) 10' x 20' run-in sheds for the Bureau of Land Management in Lorton, VA.
A 12' x 36' shedrow barn at the U.S. Military Academy in West Point, NY that is to be used as a quarantine barn.
A 10' x 16' run-in shed for the National Park Service, Manassas National Battlefield Park, Manassas, VA.
"Most of our other government sales have been sheds, garages, gazebos and, most recently, an increasing number of our popular commercial dog kennels. We've sold structures to: Air National Guard, Bureau of Indian Affairs, Department of Defense, Department of the Interior, Federal Aviation Administration, FBI, all branches of the military and more," explained Siragusa.
Whether you are interested in growing your sales numbers as a vendor through offering GSA services or are currently exploring options for purchasing structures for storage needs, horse housing, or year round dog kennels or other structures as a government employee, utilization of this important program can benefit everyone.
This article is brought to you courtesy of Horizon Structures Inc., Atglen PA – Modular horse specialists. Horizon Structures also offers both residential and commercial kennels, coops, multi-use structures and playsets. Please visit https://www.HorizonStructures.com to learn more.
About Horizon Structures: One horse or twenty, there's one thing all horse owners have in common...the need to provide safe and secure shelter for their equine partners. At Horizon Structures, we combine expert craftsmanship, top-of-the-line materials and smart "horse-friendly" design to create a full line of sheds and barns that any horse owner can feel confident is the right choice for their horses' stabling needs.
All wood. Amish Made. Most of our buildings are shipped 100% pre-built and ready for same-day use. Larger barns are a modular construction and can be ready for your horses in less than a week. All our barn packages include everything you need -
Horizon Structures also sells indoor riding arenas, chicken coops, dog kennels, 1 and 2 car garages, storage sheds and outdoor living structures.
Headquartered in South-Central Pennsylvania, Horizon Structures, LLC is owned by Dave Zook. Dave was raised in the Amish tradition and grew up working in the family-owned shed business. He started Horizon Structures in 2001 in response to an ever-increasing customer demand for high quality, affordable horse barns.
For additional information about the company or their product line, please visit their website at https://www.horizonstructures.com
About Nikki Alvin-Smith: Internationally published freelance writer and creative content producer. Ghostwriting, blog services, PR/Marketing specialist. Nikki also produces catalog and website copy, white papers, e-books, corporate brochures and advertising copy for a wide range of businesses.
As a Brit who has called the America home for the past 38 years, Nikki brings a unique perspective to the equestrian world. Nikki is also an accomplished Grand Prix dressage trainer/competitor, competing at international Grand Prix level to scores over 72% and is a highly sought clinician offering clinics worldwide. She has been a horse breeder/importer of warmblood and Baroque breeds for more than 25 years. Together with her husband Paul who is also a Grand Prix trainer, they run Willowview Hill Farm, a private dressage training yard in the beautiful Catskill Mountains of New York. Please visit https://nikkialvinsmithstudio.com/ to learn more about her affordable services.