Newsdate: November 18, 2019, 7:00 am
Location: FAIRFIELD, Connecticut
Members of the Intercollegiate Horse Shows Association (IHSA) from across the country participated in the Lindsay Maxwell Charitable Fund/USHJA Emerging Athletes Program (EAP) National Training Session and Horsemanship Quiz Challenge held at the University of Findlay in Findlay, Ohio Nov. 7-10.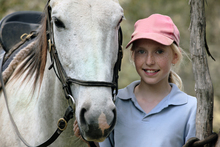 The Emerging Athletes Program was created in 2009 to provide opportunities for young riders to advance their horsemanship and riding skills.
© 2016 by Christopher Meder New window.
Out of the 252 riders that applied for the EAP this year, 192 participated in a Regional Training Session. Sixteen riders and three stable managers were invited to the national training session, six of whom are IHSA members.
The 2019 Horsemanship Quiz Challenge had 426 registrants. Of the entrants, 309 completed the Level One quiz and 106 of those made it to the Level Two quiz. Only 24 were invited to participate in the HQC Finals. Three IHSA members made the shortlist of finalists.
The EAP was created in 2009 to provide opportunities for young riders to advance their horsemanship and riding skills. EAP winners and participants have gone on to win numerous championships in the hunter, jumper and equitation arenas including the Platinum Performance/USEF Show Jumping Talent Search Finals, ASPCA Maclay Finals, USEF Prix des States and at IHSA Nationals.
Finalists are evaluated on their riding skills, stable management, combined with their score on a written test. Throughout the four-day event, riders train with Olympic Gold Medalist and IHSA Cacchione Cup winner Peter Wylde. Each finalist trained and cared for a horse generously provided by the University of Findlay, Lake Erie College and Henry Pfeiffer.
Julianna Empie, a 19-year-old Penn State Equestrian Team member bested the field of 15 nationally-qualified riders after a rigorous four days of evaluation and a Nations-Cup Style competition. Empie has ridden at regional training sessions since 2016 with clinicians Kip Rosenthal, Anne Kursinski, Joe Fargis and Karen Healey.
"I was excited just to be at EAP National Finals," Empie said. "It was amazing because I've looked up to other riders and past winners, and now to be a winner of this program is just crazy."
Empie spent the first few days of the EAP Finals figuring out her mount Woody, provided by Henry Pfeiffer. She said that he was a different ride than she is used to but her consistency in the saddle helped her secure the win.
"Riding multiple horses through the IHSA has given me the skill to feel my horse out in those first few moments and put it all together for a smooth ride," Empie said.
Wylde complimented Empie as a natural rider with a big future. He commented on her effortless and consistent her rounds aboard Woody in the Nations Cup-style competition. Four riders were called back for a ride-off on different mounts after two rounds of competition on Sunday.
Empie's ride-off round was aboard Clark, owned by the University of Findlay, who won the EAP Outstanding Horse Award. The judges gave Empie the nod and the national finals honor.
As this year's winner, Empie received a spot in the 2020 USHJA Gold Star Clinic in the 1.10/1.15m section. "I'm so excited for the Gold Star Clinic," Empie said. "The opportunity to ride in Florida and learn from other professionals in stable management is huge."
The IHSA members that took part in the EAP National Training Session are:
Julianna Empie, 19, Chester Springs, Pennsylvania – Penn State University
Joelle Hylton, 19, Manteca, California – Cal Poly
Rose Kauffman-Skloff, 19, Los Angeles, California – Savannah College of Art and Design
Evelyn Smith, 18, Morristown, New Jersey – Delaware Valley University
Alicia Weismann, 19, Southampton, New Jersey – Rider University
Mara Picciochi, 20, Morristown, New Jersey – Centenary University
Also held at the University of Findlay was the Horsemanship Quiz Challenge (HQC) Finals. The HQC consists of two levels of online horsemanship quizzes comprised of multiple choice and true/false questions that cover horsemanship, anatomy, nutrition, riding theory and welfare.
To be eligible for finals, participants must score an 80 or higher on Level One and a 90 or higher on Level Two. The HQC Finals includes the written test and a hands-on practicum that puts the finalists to the ultimate test.
Keedysville, Maryland, native Chloe Bellerive topped the field of HQC finalists to stand atop the podium as winner of the overall competition.
"The IHSA has helped a lot participating over the years," said Bellerive, a 20-year old University of Kentucky senior. "The horsemanship you learn from being able to figure out your horse while riding and what it needs from bits and tack to barn management."
Bellerive is no stranger to HQC competition. She has participated since its inaugural year in 2012. "It was truly very rewarding to take my years of experience after competing for so many years to rise above to win," she said.
Part of her winner's package includes a two-month paid internship at Spy Coast Farm in Lexington, Kentucky during the summer of 2020. Bellerive said that she is excited to experience all aspects of the top-notch Warmblood breeding and training facility.
On her way to the overall win, Bellerive scored third on the written exam, first on the horsemanship/identification exam and second on the practicum.
When asked what advice she'd give to those looking to ride in the IHSA Bellerive said, "Ride as many horses as you can and take every opportunity to keep learning because you can truly never learn enough."
Two other IHSA members competed in the HQC Finals. University of Michigan student Rebecca Hopkins (Northville, Michigan) scored second on the written exam and fourth on the horsemanship/identification exam. Lauren Obermeyer from Hamilton, Ohio, who rides at the University of Findlay, scored third on the horsemanship/identification exam and fourth on the practicum exam.
ABOUT THE IHSA
The Intercollegiate Horse Shows Association (IHSA) welcomes men and women of all riding levels and offers individual and team competition in hunter seat equitation, Western horsemanship and reining at more than 400 member colleges and universities. Membership in IHSA means that college students can participate at horse shows regardless of their experience or financial status. Students compete at eight levels from beginner through advanced with suitable, provided horses, eliminating the expense of horse ownership. Founded in 1967 by Bob Cacchione, it is the oldest and largest intercollegiate equestrian organization with 10,000 members in 47 states and Canada. IHSA college and university team participation is represented through a variety of programs including varsity athletics, academic departments and club sports. IHSA offers valuable hands-on experience and professional development in multiple facets of the equine industry. Many IHSA teams participate in service projects, giving back to their communities. Through the IHSA, students enhance their college experience and develop the tools that help to build successful careers.
---
Press release by Carrie Wirth - EQ Media