The nation's leading wild horse protection organization, the American Wild Horse Campaign, issued the following statement today in response to the U.S. Bureau of Land Management's announcement that it intends to round up 22,000 wild horses and burros from public lands this year and permanently remove 19,000 of them from their federally-designated habitats, adding to the 58,000 wild horses and burros that are currently maintained in government holding facilities.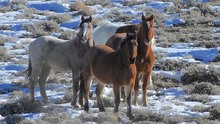 It is extremely disappointing that the Biden Administration has chosen to pursue the policy of mass roundups for management of wild horse and burro populations which will cost taxpayers billions of dollars.
© 2018 by Cloud Foundation New window.
"It is extremely disappointing that the Biden Administration has chosen to pursue the unscientific policy of mass roundups for the management of our nation's iconic, federally protected wild horse and burro populations. The mass removal of these cherished animals from our public lands won't solve any of the pressing environmental problems facing our public lands today, but it will cost taxpayers billions of dollars—and the lives of far too many horses and burros.
The National Academy of Sciences (NAS) concluded that roundup and removal is a counterproductive management practice because it leads to artificially high population growth rates on the range. Yet the BLM has pursued this outdated, unscientific, and failed strategy for decades.
The NAS recommended fertility control vaccines as the science-based, cost-effective solution to wild horse management, and the BLM should prioritize this humane management tool. The BLM can significantly increase the number of fertility control vaccine treatments, and there are organizations that stand willing and ready to help implement programs to keep these animals on the range where they belong.
">Wild horses are present on just 12 percent of the land that the BLM manages, and they are greatly outnumbered by commercial livestock whose damage to land health and contributions to climate change are well documented. Expending such large sums of tax dollars to round up and warehouse wild horses in captivity diverts funds from effective programs to address climate change and the true causes of land degradation and pursue habitat restoration programs.
Further, if conditions are so severe as to warrant the BLM to undertake these unprecedented removal actions in wild horse and burro habitat, then such conditions would certainly warrant closure of these areas to livestock grazing immediately.
These environmental concerns have led numerous conservation organizations—including the 7 million-member Sierra Club—to call for the removal of livestock instead of wild horses from designated habitat areas.
As part of the FY22 House and Senate Interior Appropriations bills, a portion of BLM's annual budget was allocated toward fertility control vaccines and directed the BLM to implement fertility control as a step away from costly and inhumane roundups. We hope that the new leadership at the BLM will take this opportunity to change course toward truly scientific and sustainable management that will protect and preserve America's wild horses and burros and the public lands they call home."
The American Wild Horse Campaign (AWHC) is the nation's leading wild horse protection organization, with more than 700,000 supporters and followers nationwide. AWHC is dedicated to preserving the American wild horse and burros in viable, free-roaming herds for generations to come, as part of our national heritage.
In addition to advocating for the protection and preservation of America's wild herds, AWHC implements the largest wild horse fertility control program in the world through a partnership with the State of Nevada for wild horses that live in the Virginia Range near Reno.
AWHC has been working with House and Senate leaders to secure FY 2022 appropriations language to require the BLM to implement humane fertility control and expects Congress to take up the final spending bill next month.
---
Press release by Amelia Perrin <amelia@americanwildhorsecampaign.org