Newsdate: Monday, July 24, 2023 - 11:00 am
Location:WASHINGTON, DC
Animal Advocates Urge Swift Implementation Of Strong New Rule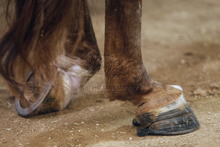 It's infuriating that after decades of continued equine cruelty, the Biden Administration withdrew USDA';s 2017 final rule without urgently pressing forward with the new The Horse Protection Act rule.
© 2020 by Lance Murphey/The HSUS New window.
The Humane Society of the United States and Humane Society Legislative Fund have denounced the U.S. Department of Agriculture's proposal to withdraw a regulation to protect horses from the cruel and unlawful practice of "soring", with no commitment to a timeline for implementing increased protections through a new proposed rule.
Soring is a practice in which trainers deliberately inflict pain on the legs and hooves of horses to produce an exaggerated gait known as the "big lick" that is rewarded in show circuits for Tennessee Walking Horses and related breeds. They do so through the application of caustic chemicals that burn the horses' flesh, metal chains that strike against the inflamed tissue, tall and heavy platform shoes and extreme cutting of the animals' soles down to their sensitive laminae (soft tissues).
The Horse Protection Act (HPA) was enacted in 1970 to end soring. However, industry inspectors currently tasked by USDA to uphold this law often look the other way, allowing soring to continue undetected and unabated. USDA data from 2018-2020 shows the department's own veterinary inspectors found violations at a rate 403% higher than industry personnel.
Following a 2010 USDA inspector general's audit report calling for an end to the failed system of industry self-policing, the agency agreed to abolish that scheme and replace it with a team of inspectors overseen by USDA. In 2017, under the Obama Administration's Secretary of Agriculture Tom Vilsack, the agency finalized a rule replacing industry inspectors with USDA-trained inspectors, among other protections. The rule was widely supported, with over 100,000 public comments and bipartisan endorsement from Congress. But it was quickly and unlawfully withdrawn by the Trump Administration.
Following litigation brought by the HSUS, HSLF, and several individuals, the D.C. Circuit ruled that USDA must properly withdraw the 2017 rule or implement it—a course of action USDA claims will interfere with new regulations it plans to promulgate.
However, since the fall of 2021, USDA has not made good on its promise that a strong new proposed rule was forthcoming – and none has been published for public comment. The Biden Administration's proposal now, under Secretary Vilsack, to withdraw the 2017 rule without replacing it with any increased protections for horses leaves the unlawful regime in place that existed prior to the finalization of the rule. It could be months, or years, before a new rule is proposed and finalized. During that time, horses will continue to suffer.
"Soring is a perverse cruelty, carried out in secret by a small, institutionalized group of perpetrators seeking to cheat their way to glory in the showring," said Sara Amundson, president of the Humane Society Legislative Fund. "It's infuriating that after decades of continued equine cruelty, the Biden Administration withdrew USDA's 2017 final rule without urgently pressing forward with the new HPA rule. The USDA must finalize this rule to end this abject equine cruelty now."
"For years, we have worked for an effective rule to curb soring through enhanced inspections and penalties, and the USDA's decision under President Biden to withdraw the 2017 rule without having a new rule in place is disheartening. Soring doesn't deserve safe quarter of any kind, and we urge the White House to quickly finish its review of the new HPA rule and press for its swift finalization by the agency" said Kitty Block, president and CEO of the Humane Society of the United States.
Ending horse soring is broadly supported by Congress. The Prevent All Soring Tactics (PAST) Act has strong bipartisan support and would codify key elements of the 2017 HPA rule. Congress has also expressed strong support for upgraded regulations, through appropriations language calling for the swift proposal, finalization, and publication of the new final rule. Animal advocates can urge USDA to swiftly finalize a new rule to end soring here: Protect horses from the cruel act of soring.
Founded in 1954, the Humane Society of the United States fights the big fights to end suffering for all animals. Together with millions of supporters, we take on puppy mills, factory farms, trophy hunts, animal testing and other cruel industries. With our affiliates, we rescue and care for tens of thousands of animals every year through our animal rescue team's work and other hands-on animal care services. We fight all forms of animal cruelty to achieve the vision behind our name: A humane society.
Learn more about our work at humanesociety.org. Subscribe to Kitty Block's blog, A Humane World. Follow the HSUS Media Relations department on Twitter. Read the award-winning All Animals magazine. Listen to the Humane Voices Podcast. 
Humane Society Legislative Fund works to pass animal protection laws at the state and federal level, to educate the public about animal protection issues and support humane candidates for office. Formed in 2004, HSLF is incorporated under section 501(c)(4) of the Internal Revenue Code as a separate lobbying affiliate of the Humane Society of the United States.
---
Press release by Melissa Smith