Newsdate: Wednesday, April 12, 2023 - 11:00 am
Location: FAIRVIEW, Pennsylvania
The Dungster has patented a high-efficiency, in-vessel, aeration composting system ideal for manure management and other biodegradable waste management projects. With a locally sourced dumpster and a Dungster Composting Kit, delivered by courier to your door, you can be making compost within hours of receiving the kit. No tools required for assembly!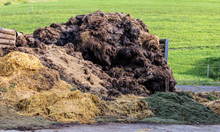 Dungster Kits are available for purchase or rental and are the most economical way to turn manure into compost.
© 2022 by Dungster New window.
Manure is nasty. However, composted manure is far from nasty ... it is the humus of Mother Earth. And it renews the earth, it retains moisture given as rain from heaven above and it has nutrients in a from that yields abundant plant growth. The world needs more compost and less manure. Composting the manure generated is responsible and sustainable farming at its best.
Past composting methods have been either labor intensive (turning the pile) or capital intensive (buildings and equipment). Dungster has changed that!
At Dungster we keep it simple.
Making use of low cost locally sourced dumpsters, the Dungster aeration composting kit enables farmers, ranches, zoos, fairs and any other operation with solid waste that must be disposed of a low cost solution that can be scaled to meet demand.
• In-Vessel Composting affordable roll-off dumpsters offer convenience
• Scalable process from 5 to 25 tons a month
• Saves Time 30 days to high quality, desirable compost
• Low Labor No turning or labor required
• Economical Small upfront investment
• Return on investment Positive ROI in 90 days
• Year-round composting best seasonal solution
• Quick set-up time farmers, ranchers, zoos, fairs and others can start composting quickly
---
Press release by Dungster Composting - pressagent@altman-hall.com