The Central Coast of California has all the natural attributes that draw in the novice and the professional horsepersons alike. Its rolling hills with rows of wine grapes and ancient oaks is a place where settlers, visitors, and even their horses can have it all!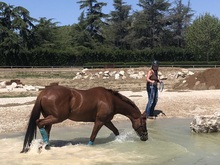 From the newest barn concepts to practicing breathing and sharing stories, to a private Templeton Thompson concert, there is something for the horse and the horse person that is unique to any other event.
© 2019 by Patty Wilding New window.
Monty Roberts built his famous Thoroughbred farm here in 1966 and 56 years later he has now transformed the farm into a year round gathering place for some of the most talented horsepersons on earth. Roberts and other leading experts have been coming together annually at an event called The Movement to demonstrate & share their latest discoveries. The Movement is inspired by the love for horses, the ambition to impact their lives as positively as they impact ours and the belief that together we can drive positive change.
The Movement launched in 2018 with the aim to create a one of a kind experience, uniting outstanding speakers and live demonstrations with horses to show the unprecedented difference horses can make across all aspects of life. Presenters and students will be gentling wild horses, teaching groundwork and trailer loading, and even riding a Mountain Trail course.
From holistic health and hoof consults, to bodywork for your horse and for yourself, for the very first time, at The Movement 2022, VIP guests will be able to book a one-on-one private session with the presenters.
Author and horse adventuress, Heather Wallace did a great job recalling the 2021 event here for Horse Illustrated magazine: https://www.horseillustrated.com/the-movement-2021-monty-roberts
Attendees of the 2021 event will remember Starlight, the horse featured at The Movement as a work in progress to highlight the methods and the care that Monty and his team put in to these horses who have been formerly mistreated.
From barn and business advice, to sharing stories, to a private Templeton Thompson concert, The Movement will take place June 17 and 18 at the beautiful Flag Is Up Farms in Solvang, California. New this year is the special addition of private sessions offered on Sunday June 19 for those who want hands-on learning from our presenters.
The theme of Happiness, Health & Horses signals a time to get back outside and enjoy the wonderful attributes of our equestrian sport. Sponsors like HandsOnGloves.com, American Harvest Inc., Horse Radio Network and MontyRobertsUniversity.com have enjoyed the impact that the event has grown into.
Jamie Jennings of Horses In the Morning, the longest running daily podcast on earth, has presented on all five years and has a great variety of talents. In 2020 the live stream of The Movement was even seen by Her Majesty Queen Elizabeth II. The Horse Radio Network and several of its shows will be well represented in June with hosts Glenn and Jennifer Hebert, Helena Harris, Dr. Wendy Ying DVM, Debbie Roberts Loucks and Jamie Jennings.
Mark Bolender, founder of the International Mountain Trail Challenge Association (IMTCA) and creator of the Bolender Method™ will be teaching with his wife Lee and Sir Rugged Chex, known as Checkers, who was given the honor of becoming the first mountain trail horse to be turned into a Breyer Model Horse in 2020.
Roberts has recently added a two-acre Bolender designed Mountain Trail to Flag Is Up Farms, creating the perfect opportunity for Mark Bolender to return and teach on it. He has added dates of June 20 and 21 for a clinic on Monty's farm as well.
Group events take place over two days, June 17 and 18 and per popular demand individual sessions are offered on day 3, June 19th, where you can put all concepts to practice. This is a unique chance to work with Monty and many other experts in private sessions.
Attendees can bring their own horse or practice with one of Monty's Transition horses from the Monty Roberts Mustang & Transition Horse program that are being trained on Flag Is Up Farms and available for adoption. These sessions are only available to participants of The Movement and need to be booked in addition to two day tickets, detailed information is published here.
The Movement Presenters 2022
• Monty Roberts – Equine behavior expert & Join-Up Founder. Monty started listening to horses in 1942 and has won 11 World Championships across disciplines. He achieves all results with his non-violent training methods and has dedicated his life to teaching and evolving these methods. The Equine Industry Vision Award (EIVA) has now tapped Roberts as a finalist who exemplifies outstanding visionary achievement and sustained contributions that have made a profound impact on the equine industry. Monty is in the top four finalists for the Equine Industry Vision Award, "recognizing ingenuity and service as well as the benefit to the equine industry by inspiring these qualities in others". "For over 80 years, he has advocated for and demonstrated the many qualities of our equine partners and athletes."
• Jamie Jennings – Winner of the 2021 The Right Horse Initiative's Good People for Good Horses Trainer Award & Certified Instructor. Jamie also competes in 3 Day Eventing. Her favorite thing is transitioning horses off the racetrack to their second careers and gentling mustangs.
• Dr. Wendy Ying – DVM & Masters degree in Chinese Veterinary Medicine. Wendy has a great interest in sports medicine, pain management, neurology and rehabilitation. She also has a lifetime of horse experience and holds USEF national championship titles in both combined and pleasure driving.
• Mark Bolender – The nation's leading horse expert in Mountain Trail. He is a three-time National Champion in the exhilarating sport of Mountain Trail, that combines the thrill of natural obstacles found on wilderness trails with top-notch horsemanship skills.
• Helena Harris – Managing Director of Stall and Stable & Co-founder of the Horse Radio Network. Helena brings over 25 years of horse experience and business expertise to the equestrian community and provides consulting services for equestrian professionals and private farm owners.
• Ada Gates – The first and only woman journeyman farrier of Thoroughbred horses in the nation. She inspects the shoes of every horse taking part in the Rose Parade.
For information, visit https://montyroberts.com/movement/ For tickets, visit https://montyrobertsshop.com/collections/special-events/products/events-the-movement-2022
---
Press release by Debbie Loucks