It's hard to know how to help. Those of us who aren't directly related to a senseless shooting have witnessed the sadness a disaster can bring. We want the community to heal and we want to memorialize and honor those affected. But how can they heal?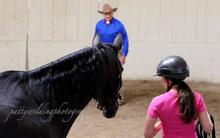 Feedback from the horses provides the opportunity for lessons on the importance of trust and respect in a relationship.
© 2008 by Louis New window.
Because major fires occurred immediately after the Borderline mass shooting in 2018, the community was deprived an opportunity to come together and mourn. It was decided that there should be a dedication of a Healing Garden nearby where the 12 people were killed. A 28-year-old male opened fire on the crowd at the Borderline Bar & Grill about 11:20 p.m. November 7, 2018 during a college country night.
Then the gunman killed himself and a motive for the mass shooting has not yet been found.
A few weeks ago, three military veterans affected by the Borderline shooting attended a Horse Sense & Healing weekend to encourage themselves and each other. Since 2010 there has been a program to help veterans and first responders heal themselves by interacting with horses in a special way.
Discovery Channel filmed and aired a documentary about veterans dealing with the effects of Post-Traumatic Stress Disorder (PTSD). Monty Roberts and his team of certified instructors and licensed counselors facilitated the experience.
What made this weekend different were the three veterans who also lost of friends and children at the Borderline on top of their military trauma. One woman participant is a retired Air Force veteran who lost her son at the Borderline.
She mentioned that the upcoming November memorials will be difficult and that her dreams are full of good memories of her son, but then she wakes up. Interacting with an exuberant Quarter Horse named Sophie was perfect for her, taking her full concentration to create a Join-Up®, that moment when her horse decided to trust her.
These 3-day Horse Sense & Healing clinics are held six times a year at Flag Is Up Farms, in Solvang, California owned by Monty and Pat Roberts. The program assists participants and their families to overcome past emotional injuries and learn to trust, communicate emotions, and build resiliency to cope after deployment.
The center of the experience of these clinics is achieving Join-Up® with a horse. Participants learn to communicate with horses in a non-violent, non-coercive manner, and have the opportunity to explore how the animals react to their different moods, vocal tones, and body language.
This 'feedback' from the horses provides the perfect opportunity for lessons on the importance of trust and respect in a relationship, and how they cannot be achieved through domination, aggression or fear. Leading up to the Join-Up experience, many skills of emotional control, focus exercises and breathing techniques are shared.
At age 84, Monty Roberts has spent over 70 years working on his non-violent training techniques, which have become widely renowned and utilized in many disciplines and industries across the world. In recent years, however, he has turned his focus to the healing power of horses, and how remarkable they are at reducing violence and negative emotions in humans.
"Like the horse, these heroes have developed heightened senses and a flight response, and find it difficult to trust again. The military developed boot camps to train for war, but very little is done to re-train our service personnel to re-enter domestic environments," said Roberts.
"Those familiar with my thoughts on healing should know that I don't believe there should be a D in PTSD. The D in PTSD should have been an I and stand for Injury. Going to war and coming home with extreme trauma is an injury and not a disorder. Injuries heal and disorders tend not to," said Roberts.
"By removing the stigma of a 'disorder' we could help so many more of our returning veterans receive the support they need."
Horse Sense & Healing has grown from its California-base to include clinics in England, Northern Ireland and Germany and introduced in several other countries as well.
You can learn more about the Horse Sense & Healing program on the Monty Roberts website, and can support the program through Join-Up International, a 501(c)(3) non-profit.
For a complete description of these clinics, visit the website https://montyroberts.com/non-profit/horse-sense-and-healing/ or phone 805-688-6288
---
Press release provided by Media Contact: Debbie Loucks