Kicking off the winter season in southern California, Terra Nova Training Center traveled from Santa Fe, New Mexico to the Desert International Horse Park in Thermal to host Terra Nova Tuesday.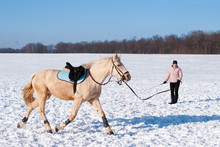 Interested in positive reinforcement training for horses? Spend a Terra Nova Tuesday in the desert, meet with Shawna and learn more about this powerful training technique.
© 2017 by alexapro New window.
With a plan to inform and educate trainers on the effectiveness of Positive Reinforcement, Terra Nova is on site each Tuesday for the first four weeks of the Desert Circuit. Along with the tremendous value of the positive information, these Tuesdays also offer breakfast in the morning and snacks in the afternoon, as well as Desert International Horse Park trainer buckets full of goodies, each week.
Positive Reinforcement Trainer and Animal Behavior expert, Shawna Karrasch, who is in residence at Terra Nova, will be present in the desert for each Terra Nova Tuesday to introduce, explain, and work with trainers on the benefits of adding this issue-solving tool called Positive Reinforcement to any training toolbox.
Shawna is a pioneer in the use of Positive Reinforcement Training with horses. Her powerful and humane behavioral training techniques are an eye-opening experience for equine professionals, competitors, and amateurs alike.
For over two decades, she has produced books, videos and podcasts and traveled worldwide to teach the concepts of bridge conditioning and positive reinforcement for horses. She has worked with equestrians of all ages and levels, including names some may recognize such as Beezie and John Madden as well as Helen and Duncan McFarlane.
The Maddens, who were some of the first trainers to embrace the power of the method, experienced tremendous change under saddle with a horse that went from fear of water to jumping water with ease, leading to success at the international level.
More recently the McFarlanes, admittedly skeptical, invited Shawna to work with their young and talented show jumper, Double Whoopy. Once again, the transformation from fearful and nervous to willing partner impressed the experienced professionals, who have eagerly embraced the method of Positive Reinforcement in their program.
Shawna's infectious enthusiasm, sense of humor, years of training experience, and rapport with animals and humans makes her one of the finest positive reinforcement trainers in North America.
Interested in Positive Reinforcement Training for horses? Want to ride a truly "happy athlete" in competition? Want to improve their behavior on the ground and/or under saddle? Plan to spend a Terra Nova Tuesday in the desert, meet with Shawna and learn more about this powerful training technique. Three Tuesdays remain in the schedule - January 21, January 28 and February 4, 2020.
Nova Training Center has a mission to provide riders around the world with the tool of Positive Reinforcement Training. Happy horses are successful horses. Be a part of the positive movement. See more at terranovatrainingcenter.com .
---
Press release provided by Mary Richards - Terra Nova Training Center